Snorkel, Subwing and Sunset Boat Tours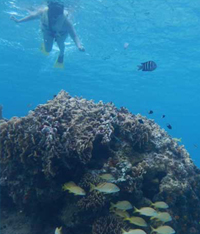 $300.00 USD
Private Cozumel Snorkel Tours
Why choose a private snorkel tour? It's simple. Avoid the cattle boats where you will be jammed in with your family uncomfortably, and then rushed through your snorkel! Cozumel has the most amazing reefs created by sponges, corals and seafans. Its home to over 250 species of fish, eels, turtles, sharks, rays & more. Our tropical waters have amazing visibility and the temperature is perfect to enjoy floating in the ocean. Come have fun and enjoy your day with us!
Includes:
2 hour tour
2 Snorkel sights
Snorkeling Equipment
Drinks: Water & Sodas
$2 usd national marine park fee
Price listed is up to 6 guests. Additional guest is $30usd. Maximum up to 30 guests.
Departure time is flexible (cruise ship friendly)

$75.00 USD
Snorkel & El Cielo Tour
El Cielo is a shallow sandbar with turquoise blue waters, white sandy bottom and many starfish. To swim and play here, is of course, Heaven. On our snorkel & cielo Cozumel, we offer 2 amazing snorkel sites and plenty time at El Cielo Sandbar where snacks and beers are served. Get all the best our island oceans have to offer in 1 trip.
Includes:
2 snorkel sites
Snorkeling Equipment
Noodles
El Cielo sandbar
Drinks: Water, Sodas, Beers
Snacks: Chips, Guacamole, Pico de Gallo
$2 usd National Marine Park Fee
Price listed is per person. 7 guests minimum. Departure time is flexible (cruise ship friendly)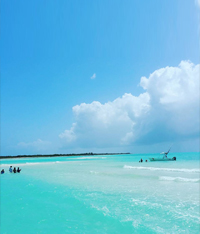 Private El Cielo Tours
Heaven on Earth... Paradise in Paradise... One of Cozumel's most amazing secrets. A place close to land, but only reachable by sea. Amazing water colors, unique white sand & beautiful starfish. Cielo Cozumel is one of natures most unforgettable places you must see at least once in a lifetime. We offer private boat tours to El Cielo with all amenities that your party needs
Includes:
Noodles & floaties
Drinks (water, sodas, beers)
Snacks (fresh guacamole, fresh pico de gallo, chips)
Marine Park Access Fee

Departure times are flexible. This makes it perfect for groups / families on cruise ships schedules. Prices are quoted depending on group size.
$40 USD
Subwing & Sunsets
Every sunset is different. Each one is breath taking. All memories are beautiful. Our guests find that sunsets on the ocean are the highlight of their trip!
The combination of Subwing + Sunset is perfect for a afternoon activity before dinner. We guarantee that everyone will enjoy this tour.
To learn to Subwing, you just need to know how to swim. Its that simple! Subwing is like power snorkeling! Just pop on a mask, hold the board and fly underwater.
If no one chooses to subwing, we will gladly stop and let you all jump into the ocean and float in these amazing crystal turquoise waters.
Our private sunset boat cruise takes place just in front of town (north) and the sail just takes 2 hours!
Water, sodas, beers
Sodas
Marine Park Access Fee
Subwing gear
Price is listed per person. A minimum of 4 is required for departure.
View the video below for a quick sneak-peak of our subwing adventure!
Boat Rental / Private Charters
Want to rent a boat for something different?
Private charters
Snorkeling
Subwing
Sunset
El Cielo
Boat tour
Passion island
Punta Molas lighthouse
We can easily adapt to your needs!
Just let us know what you would like to do, amount of hours and we will help you figure it out!